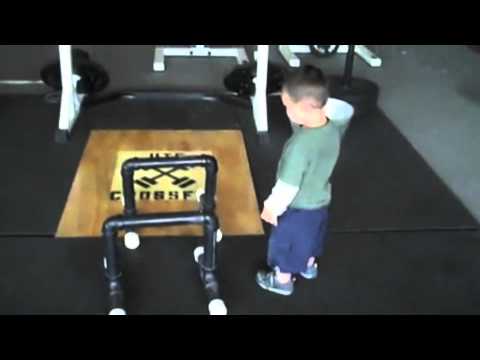 A throw back clip, our Boden now 5 years old the same thing today with his little sis, with the same great people around.  Burpees brings smiles.
Pre WOD
10:00 minutes of Muscle Up Practice
Use the following progressions and break downs to practice:
Kneeling to MU, Ring row to MU transition, Strict MU sitting on Band, Kipping form Lying on Back, Strict MU w/ assistance, Ring to Hips Kipping, Banded Bar MU etc….
WOD:
Work up to heavy BB Complex
Barbell Complex =Deadlift + Hang Clean + Front Squat + Push Press + Back Squat + Behind Neck Press
-Squat Clean Thrusters or okay for the 1st, 4 movements. It is also okay to sub the BB today for KB or Bulgarian Bag, your pick!
Then:
Rx+
20:00 AMRAP
2 MU
2xBB Complex 185/115#
10 Box Jumps 24″
Rx
20:00 AMRAP
4 Chest to Bar Pull Up
2x BB Complex 135/95
10 Box Jump 18″
RxM
4 Pull Up
2x BB Complex 115/75#
10 Box Jump 16#
RxM+
4 Ring Row to MU Transition
2x BB Complex 95/55
10 Box Jumps or Box Steps 10″
Post WOD
Foam Roll/Stretch/5×10 Alternating Superman.
If you have been out to lunch and have not seen our posts about schedule changes, and programing changes…:)…please visit our past 4 days of posts to get the run down.
We now will post 4 variations of 1 workout daily, the range will be for our very advanced CrossFit Competitor athlete, to a day one member of our gym and some range in between.  It looks different, but keep it simple…pick the range your feel comfortable working in, or if you need the push and you know your body can handle it and has the proper foundation for it, go for it!
9:30 WOD and Daycare at Holladay
Challenge
: 5×5 Strict Press. Superset w/ 10 Split Jumps
50 Double Unders
40 Bulgarian Bag Squat Cleans 17/12kg
30 cal on Row
20 Push Press 95/65#
10 Deck Squats
If you need clarity on any changes or program info please feel free to email us info@utecrossfit.com